If you are someone who loves the boating lifestyle, there are so many sailboat interior decorating ideas. It's basically just coastal interior design – but with a more exclusive feel to it. Think Henri Lloyd or Fred Perry – but for interiors. You don't have to stick to the old fashioned white and navy blue, nautical knotted rope design. Play with different accessories to create a unique style.
Using waterproof material
Everything from the flooring to the electronics to the upholstery will need to be marine-suitable. All the areas of a boat can end up getting sprayed with water. Saltwater is very corrosive and will cause damage to the equipment and materials. You need equipment and materials that can handle exposure to dampness, salt and water.
Avoid breakable, fragile items
There are essential factors to think about when planning the sailboat decorating scheme one crucial thing is the fact everything will be in motion all the time. You might love beach homewares such as shells, but when it comes to a storm, the motion can become very intense, and potentially end up breaking your precious interiors. You will need to remember this when you are shopping for things like tableware. The expensive china would not withstand the motion and wouldn't be a good choice for tableware on a sailboat.  If you want photos, avoid the glass and go for plexiglass. Velcro hangers are suitable for hanging lightweight wall décor for this reason.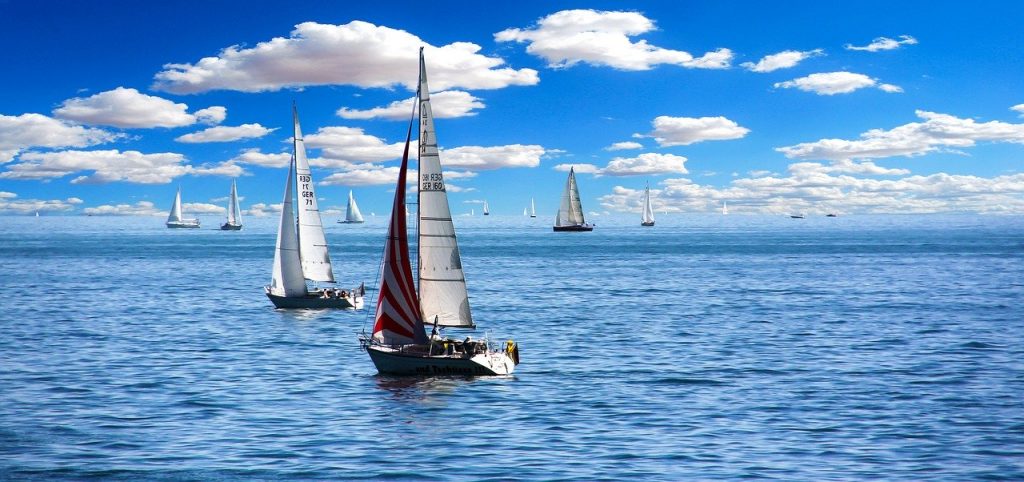 Where to find inspiration?
Not sure where to get some inspiration from? There are plenty of sources that have some helpful ideas for sailboat decorating, which include:
Marina stores
Boating trade shows
Online forums for designer boating lifestyles
Books on decorating sailboat interiors
Pinterest
Keep in mind just how much of a change that you want to make to the interior of the sailboat. You will also need to consider your budget. It can be expensive when it comes to decorating, so ensure you know your limits and what you can comfortably afford to spend.
The upholstery
New upholstery for all the bedding and seating cushions can make a big difference to the interior of the sailboat. You want to ensure that the material is mildew and mould resistant and suitable for marine use. Sunbrella has suitable marine fabrics in many custom textures and colours.
Flooring
Flooring is another change to consider. The marine vinyl flooring works well in a sailboat as it is weatherproof and very durable. The flooring can handle mildew, water and oils. There is also marine carpet on the market if you prefer to have carpet instead.
The windows
The new window coverings can make a vast improvement within the interior of the sailboat. There are different options to choose from, including drapes, motorised shades, blackout curtains and mini blinds. There are many choices when it comes to materials and colours to allow you to get the look and feel you want.
There are so many ways that you can customise the interior of your sailboat just remember to ensure everything is suitable for the marine world. Time to change up the interior and create something that you can relax in and enjoy. Add themed accessories around your interior. You can find some different ideas and inspirations from places like Pinterest and Instagram.
If you find you are having trouble coming up with some ideas, you can always get advice from a professional interior decorator, who can either do the decorating for you or can just offer some advice and guidelines that can help you achieve the look you want.