Whether you're a basketball player or one of the fans, these basketball sneakers not only add umph to a get-up but also adds zest to your customized basketball jerseys, appearance and confidence.
Once called Non-skids, basketball sneakers were high-performance athletic shoes defined by their rubber soles and a canvas body. It was made to keep up with the ballers' demand to keep their stance after running back and forth the basketball court and jumping to box out opponents in gaining possession of the ball by a rebound. The first one was invented around 1917. But the big breakthrough did not happen until the 1950s and 1960s. Different designs around the 90s had become ultimate favourites that up until now are hailed and purchased. And so this post is naming five retro Basketball shoes that are still a must-have up until now:
1. CONVERSE ALL-STARs a.k.a. CHUCK TAYLOR'S
Did you know that Converse All-Stars was originally manufactured and designed to play basketball with? Chuck Taylor joined a basketball team in 1917, and he was sponsored by Converse Company. The Converse Company then went on to become the first manufacturer of the non-skids when they customized one for Chuck, an American basketball player and later became an endorser and marketer of the Converse All-Stars. A little bit of trivia goes, he didn't quite play for the NBA, but he did play as early as when he was 17 years old as a semi-professional. His career in basketball shortly lived because he was hired to promote the Converse Company. It was Chuck's suggestion to change the upper body of the shoe into a soft that was intended to provide flexibility and to prevent blisters. Initially, only 2 colours were made, black and white, and so as of today, it's still the classics that are widely purchased. Chuck was able to sell 600 million pairs as he went to conduct basketball sessions in sports clinics teaching basketball techniques and expertise. Sadly, he never got a commission, not for a single pair of sneakers. He was paid a salary, but that was about it. Converse All-Stars became the official basketball shoe for the 1936 – 1968 Olympic Games. Chuck Taylor retired from Converse in 1968 and in 2003, Nike absolved Converse at its own but continuously would sell Chuck Taylor's in mass production. But with outbursts of the newest stylized Basketball sneakers, Chuck Taylor's is now worn casually. But its' branding of a star on the side says it all.
2. NIKE AIR JORDAN 1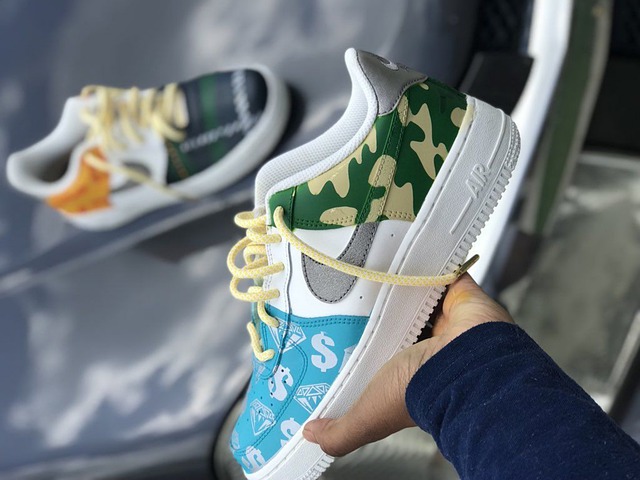 As labelled, Air Jordan 1 is considered "the one that started it all". This controversial shoes manufactured and customized personally for the legendary Michael Jordan (MJ) that introduced factors of being extremely lightweight, durability, comfort and style. MJ understood all of these factors that reflect a Basketball game for being fly and full of attitude. Moreover, these sneakers had made MJ win a lot of awards such as Rookie of the Year, but then it was known that its colours defied the rules about combining colours with their uniform. Its red and black combined hue made him pay US$5,000 fine at every game he wore this which in the end favoured NIKE by igniting the attention of people towards purchasing the shoes. And so on with the rest of the AIR JORDAN shoe series. Nowadays, fashioning Air Jordan 1 is hip and trendy all the more because of its retro feel and design.
3. THE REEBOK PUMP
The first Basketball Shoes who had an internal inflation mechanism which regulated the fit, making the wearer comfortably snug and supported uniquely from the upper tongue of the shoe all the way to the Achilles tendon. Because of this feature, the prize was different from the other athletic sneakers. Eventually, it became a status symbol amongst urban basketball courts.
4. NIKE AIR PIPPEN 1
The first-ever customized shoes for Scottie Pippen coming out into the limelight without Michael Jordan's shadow. Manufactured in 1997, it is one of the hottest trending shoes that was designed with the Air Max bag. And this is what made it into the list. Air Max featured "airbags" or "air units" that composed the midsole of the shoes replacing the usual foam type to provide maximum support and cushioning to aid the knees as the impact of jumping gets to an extreme extent. Even though this attribute was challenged, again and again, sneakers collectors found the design of the air pockets being visible cool and edgy.
5. ADIDAS SUPERSTAR
This undeniable brand is earning loads because of its classic style and versatile function. The original Adidas Superstar, a.k.a the "shell toes" were the first basketball shoes with low tops and an all-leather upper. Though the show tops were popularized by hip-hop legends, Run-DMC, back when you had teams sporting short, short, basketball shorts in game, it became a constant hit ever since. This retro classic was manufactured way back 1969 for the Pro Model Basketball Shoe. The "clam toe", "shell toe", "shell shoes", "seashells" or "shell tops" are now worn more casually than worn for sport. It is now known as Superstar II officially because it was redesigned. It is still sold in original Adidas stores up to the present with brand new colourways and designs.