Before preparing for Halloween, you'll need to know some of its traditions. This festival has come a long way. Originally, the idea was to celebrate All Saints Day. It was mixed up with Samhain's traditions and called the All Hallows Eve. Later, Halloween became an event for eating candy, unusual costumes, and trick-or-treating activities.
WHAT IS HALLOWEEN? – DATE AND ORIGIN
Halloween is a yearly holiday celebrated on the 31st of October. As an ancient Celtic festival, Halloween originated from the traditions of Samhain. During the Samhain festival, people often light bonfires wear costumes to ward off ghosts. The origin of Halloween takes root in the ancient Celtic festival of Samhain. Halloween has been celebrated for more than 20 centuries in France, Ireland, and England.
PREPARATION FOR HALLOWEEN
One of the simplest Halloween costumes is with the pumpkins. Adults and children can adorn costumes that are made from pumpkins and other materials to Halloween parties. Also, pumpkin costumes have been a classic symbol of Halloween. But now the idea has become something else altogether. Kids, teens and adults dress up in various eccentric yet innovative ways which may either be as extreme as cute to freaky! Costume ideas include robes, colourful clothing, blood paint, whiteout contact lenses, bruise and scars make up, and plenty more.
Tips
Any adult can do a low-cost DIY pumpkin costume. Get an orange (colour) t-shirt or sweater, and black fabric. Other items for this no-sew pumpkin costume are a pair of scissors, VELCRO stick-on for fabrics, and a pen.
The first step is to get an image of the pumpkin costume. Then, draw the image on the black material. The images include the pumpkin face and other patterns. Cut them with a pair of scissors after sketching these shapes.
With the stick-on glue, attach each of these shapes on the t-shirt or sweater carefully. Adults can always consider the option of Halloween contact lenses of different colours to add more of a freaky and scary effect to their costume idea.
CULTURAL BELIEFS OF HALLOWEEN
According to the Celtic festival of Samhain, the period of dark, cold winter is the end of the summer harvest. They believe that it's a time of the year for commemorating the death of everyone that once lived. Also, the Celts think that this event should be held on the eve (night) of a new year. For them, that day is the boundary of the old world (dead), and the new (living). However, a special date (night on October 31) was chosen to celebrate Halloween, and the stories of ghosts (dead people) returning to the earth.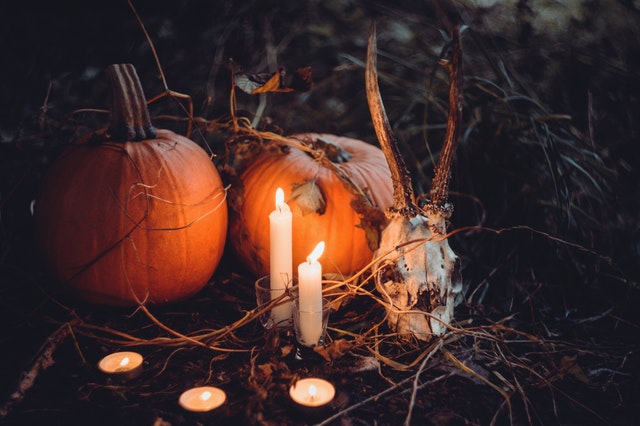 It might be a weird story, but Halloween is accepted across Europe and America. Even in Australia, people celebrate these old Celts beliefs. Before civilization, Druids and Celtic priests could communicate with the spirits of dead people. With this access, they could make predictions of earthly events. The strange addition is dressing up; in the old days you wouldn't have seen people walking around in cloaks and red colored contact lenses – but is now part of the custom.
COUNTRIES WHERE THE HALLOWEEN CELEBRATION IS POPULAR
Here's a list of countries where we expect a big celebration during Halloween. Most times, there are large processions in the cities of these countries. Children often move about with candies and sweet things to eat. They go from door to door bearing gifts, wearing weird costumes, and masks.
Belgium
Canada
England
France
Germany
Ireland
Austria
Japan
Mexico
Latin America
Sweden
Spain
Halloween is a special festival that comes with a holiday. During Halloween, children knock the door and keep bowls at doorsteps. This practice is meant to keep ghosts away from places of residence. It's like an appeal to dead people that requires special offerings.
You can talk about Halloween stories without superstition and magic. Since it's an end-of-summer festival, tourists also love to enjoy Halloween parties. If you plan to attend your first Halloween party, get ready for some mysterious practice like keeping lit candles by roadsides. Some Halloween enthusiasts might invite you to offer drinks to friendly spirits.
However, Halloween partygoers have been involved in vandalism and civil unrest. Sometimes people move Halloween parties from private places to classrooms. The trick-or-treating game is one of Halloween's high point that brings fun for adults and children.